To do the marketing of the products via Instagram, you have to make posts about products on your Instagram account. Then your clients will comment under your post, asking to know more about the products. And you have to reply to the comments immediately.
Now and then your rivals and angry clients will make abusive comments under your posts to tarnish the image of your business. And you must delete or hide the abusive comments immediately so that the image of your business keeps clean.
Your rivals always keep an eye on your Instagram account to identify your customers so that they can snatch your customers away. Normally, your rivals identify your clients by their comments under your posts. Then they send them messages to take them away from you. So you need to delete or hide comments after replying.
From time to time, your clients or other people will mention you in posts or comments. You need to reply to the posts or comments to encourage them about you and your business.
Due to some reasons, you need to disable a specific post for comments. Then you need to enable again the post for comments.
If your Instagram account is popular, your posts on Instagram will get many comments. You need to read the comments to know what your clients are thinking about your products. On your Instagram profile, you can see only a few comments at a time, not all the comments. To see all the comments, you have to click on the + icon over and over again. This is a tedious and time-consuming task.
To do the marketing of your products via Instagram, you need to do the works described above regularly and immediately. But you can't do these works immediately. You can't keep your eyes on your Instagram account all the time, since you have to sleep, eat, take rest, have showers, play with your children, and do other tasks. And the works are so simple and easy that if you do these works regularly, you will be bored to death. So you might as well use an automation tool that easily can perform the job on your Instagram account regularly and immediately.
ChatPion— a marketing software— has recently introduced a feature called 'Instagram comment automation' and an add-on called 'Comment reply enhancers'. When the add-on is added to ChatPion, the feature becomes more powerful and turns into a great automation tool for Instagram that can do the following things.
Reply to all comments on your entire Instagram account:
It can automatically reply to any comment instantly without your supervision. So when your clients get an immediate response to their comments, they feel happy and be encouraged to your business.
Delete/Hide comments:
Also, the feature can delete and hide abusive comments from your angry customers and rivals based on keywords. Thus, the feature keeps the image of your Instagram account clean.
It can also delete or hide normal comments after replying to them. If the comments from your clients are deleted immediately, your rivals can't spot the clients and thus can't send private messages to take them away from you. Therefore, you can protect your clients from being stolen.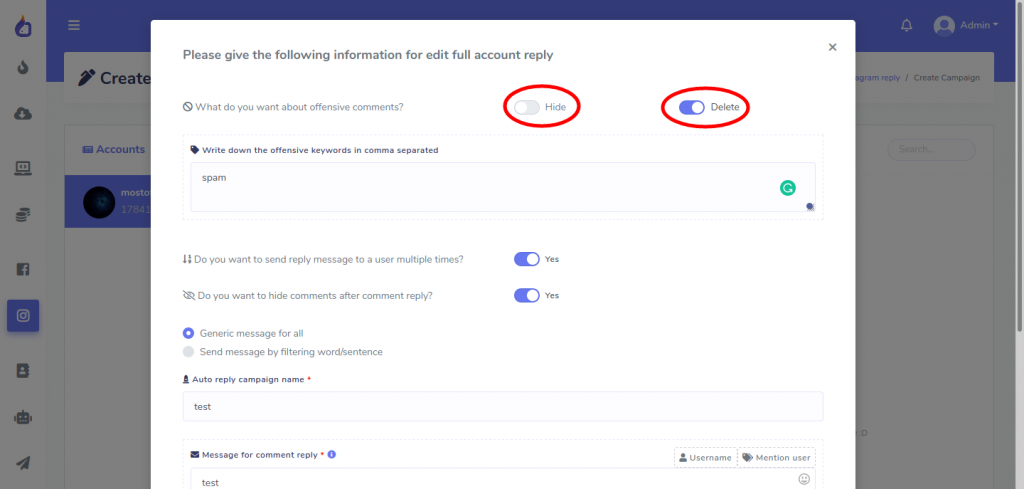 Disable/Enable post for comment:
The feature can disable any post for comment. Then it can enable the post for comments again.
All the comments on a single window:
Instagram shows only a few comments at a time. So if you got many comments under a specific post, you have to click on the + sign again and again to check all the comments. But From the interface of the feature, you can see all the comments of a post on a single window with a single click.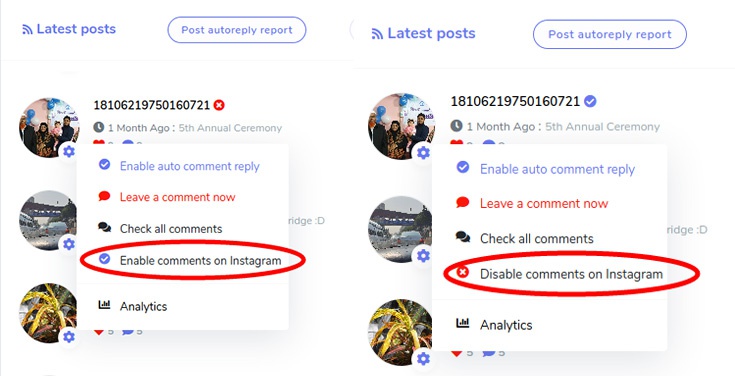 Check Analytics:
From the interface of the feature 'Comment automation for Instagram', you can check the Analytics of a specific post with just one click.

Tagged Media:
With tagged media, you can see all the posts you are tagged in. Moreover, with just one click, you can see the time when you are tagged in and the accounts that tagged you. Of course, you can visit any post you are tagged in and the account you are tagged from the interface.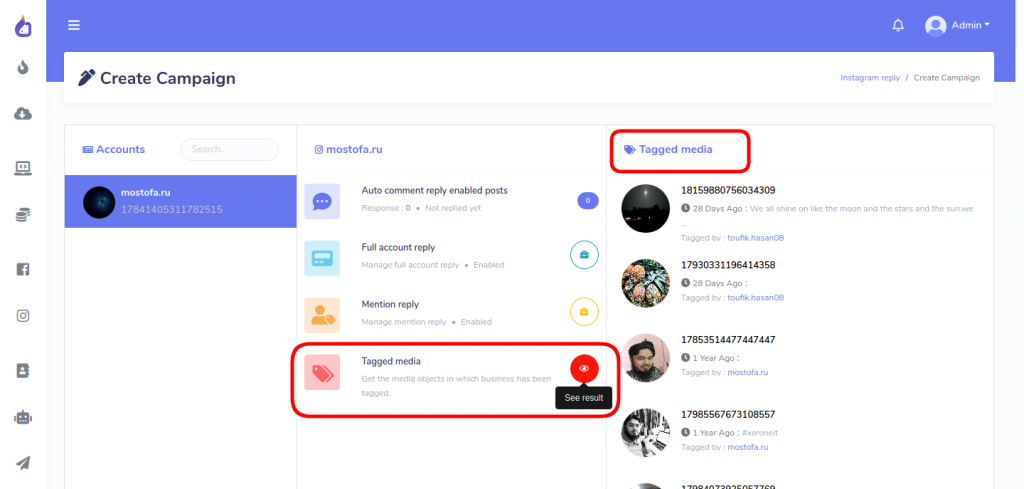 In one word, ChatPion's Automation tool for Instagram will take full responsibility of marketing your products via Instagram. It can also keep the image of your business clean. Furthermore, it protects your customers from being stolen by your rivals. By doing these works, ultimately the automation tool will increase the sales of your products and thus grow your business. You also get rid of some tedious works and give your concentration on making ideas about how to improve your business.