The adoption of chatbots has been described as a revolution in how people engage with technology and companies. Compared to traditional applications, they feature a more straightforward user experience because users only need to speak, and, in principle, chatbots should be capable of understanding and carrying out any requests made by users.
Many companies are switching to chatbot systems for customer assistance. This is because to the enormous cost reduction compared to real people, as well as the resilience and continual availability. Chatbots offer some user support without incurring a significant additional expense.
There are several places where you may utilize your chatbot, but the most popular ones are social media platforms because so many people use them often. With a few qualifications, the same may be said about instant messaging applications.
One of the more well-known instant messaging (IM) platforms today is Telegram because of its encrypted messaging systems and has good cross-platform compatibility. You can use Telegram on Android, iOS, Windows, and pretty much any other platform that can support the web version. The process of creating a chatbot on Telegram is extremely straightforward and only needs a few quick steps with the "BotSailor"– A complete free Telegram bot. The chatbot functions both alone and within Telegram groups and channels.
For a small number of subscribers, using Telegram is always free. If you have a large number of subscribers, however, you may need to pay a modest recurring fee monthly.
Follow the below steps to create your first Telegram Bot by using the BotSailor.
Step 1: (Creating an account with BotSailor)
Visit BotSailor to register; it is free and requires no credit card details. You only need to use your own email address to register. Once you've registered, you need to confirm your email address before you can start using the BotSailor.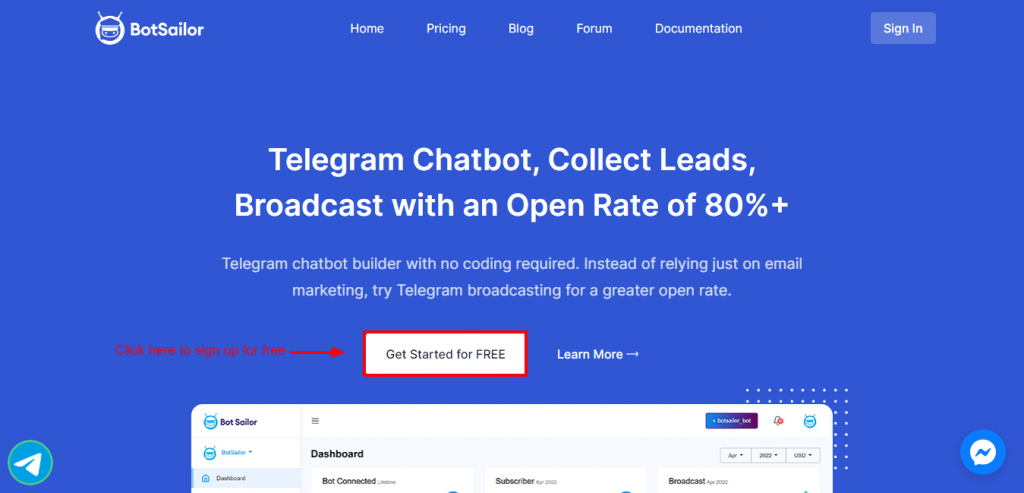 Step 2: (Connecting Telegram Bot account with BotSailor)
The next step is to link your BotSailor account with your Telegram bot account. Go to Telegram and look for BotFather if you haven't already registered a bot account there (Look for the verified account). It's the official bot account of Telegram that deals with the creation of a Telegram Bot account. To start creating your own bot account, click the Start button.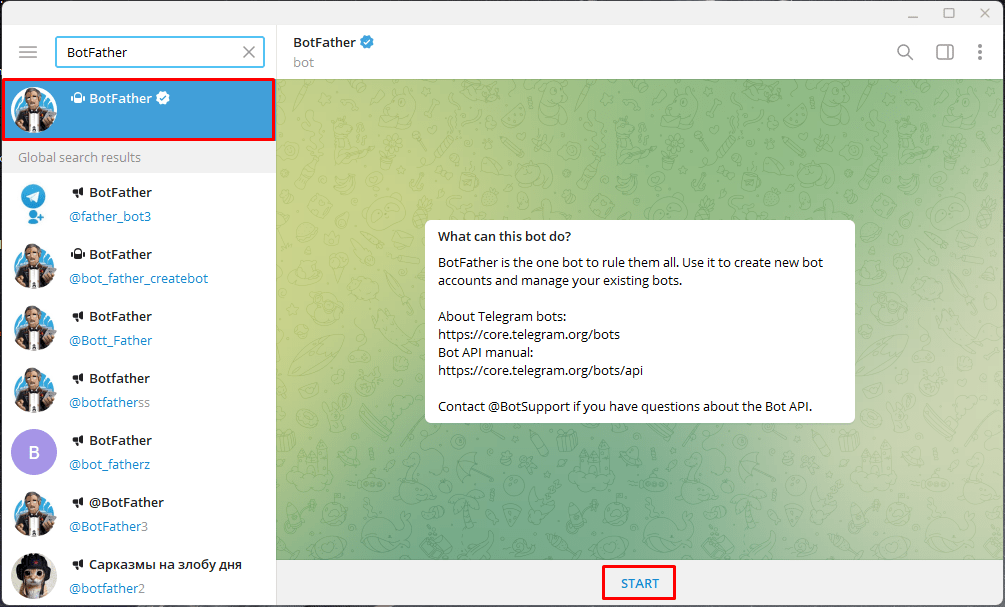 As soon as we click on the start button we will get a reply with the option to create a new bot account. Click on the /newbot (or we can just type It on the chatbox).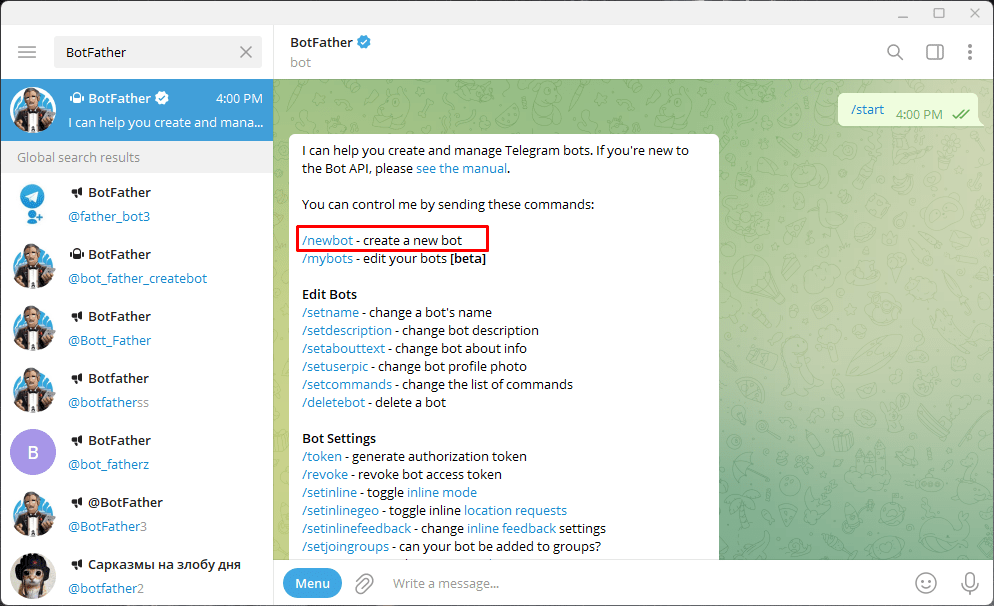 In response, BotFather will ask you for the name of the bot. Once you have provided the name of the bot, BotFather will ask for the bot user name, which must contain the word "bot" at the end. Shuvro_bot, for instance, could be the user name for the bot. If the bot user name is available, the bot account will be created by the bot father, who will send an acknowledgement message along with an access token for the bot account.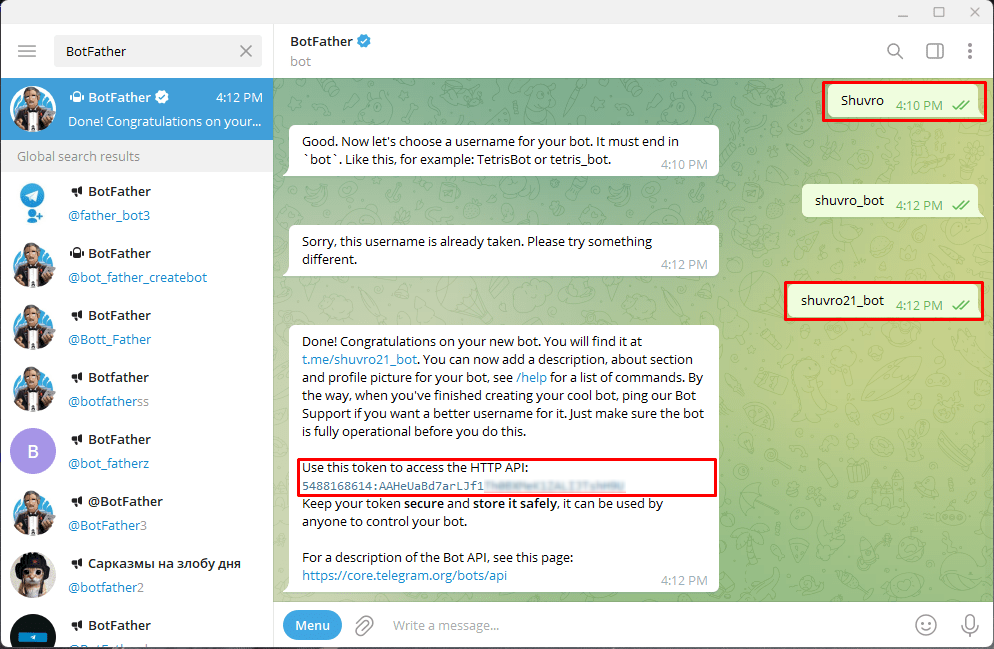 This access token is required in order to add the bot account on BotSailor. Go to Connect Bot on the BotSailor's dashboard, enter the access token, then press the connect button to link the bot account with the BotSailor.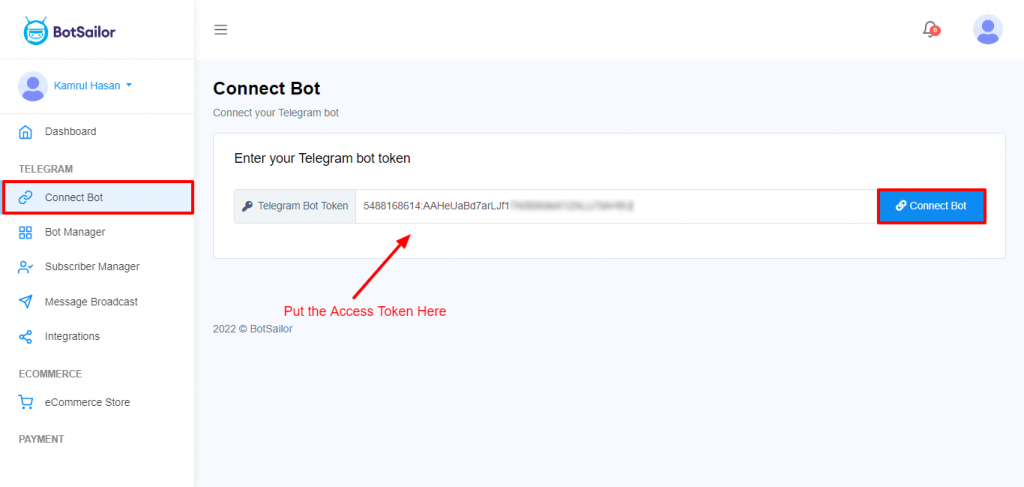 BotSailor will give a success message and the bot account will be listed on the BotSailor (Connected bot List)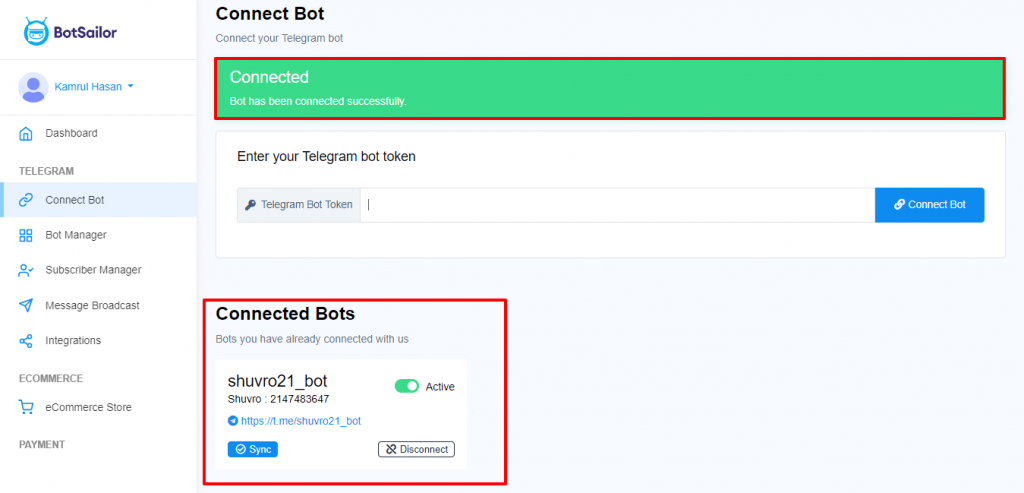 Step 3: (Use Visual Flow Builder to Create a Bot)
Now that we have connected the Telegram Bot account with BotSailor we can create our first bot. To create a bot go to Bot manager and select the bot account, in case you have multiple bot accounts added to the BotSailor. Then click on the Bot Reply and then click on Create Button. As soon as we click on the create button this will open the Visual Flow builder.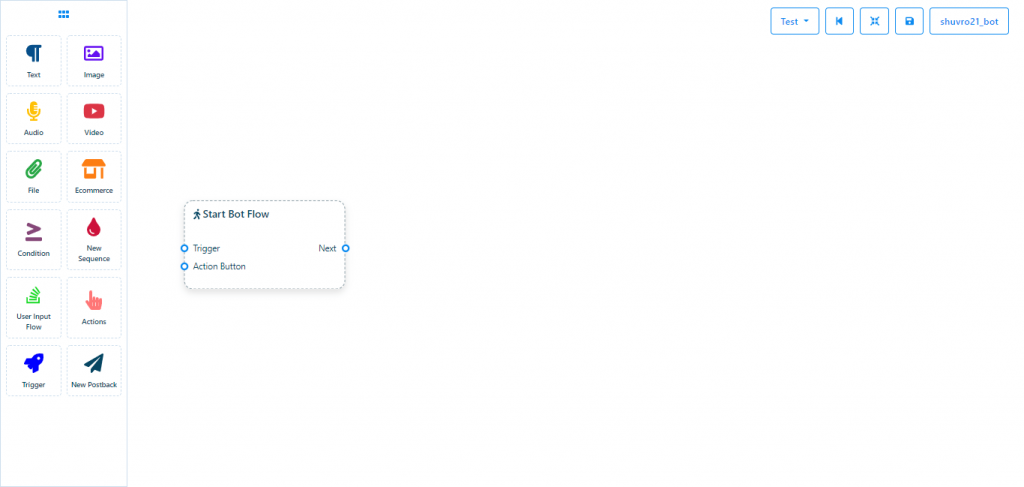 Here we can create the bot replies. First, we will add the trigger (Keywords) or/and action buttons (Get Started, no match, etc.). We can use any or both of them. Just drag those elements from the Doc menu and connect with "Start Bot Flow". To add keywords and specify the action buttons we just need to double-click on those elements.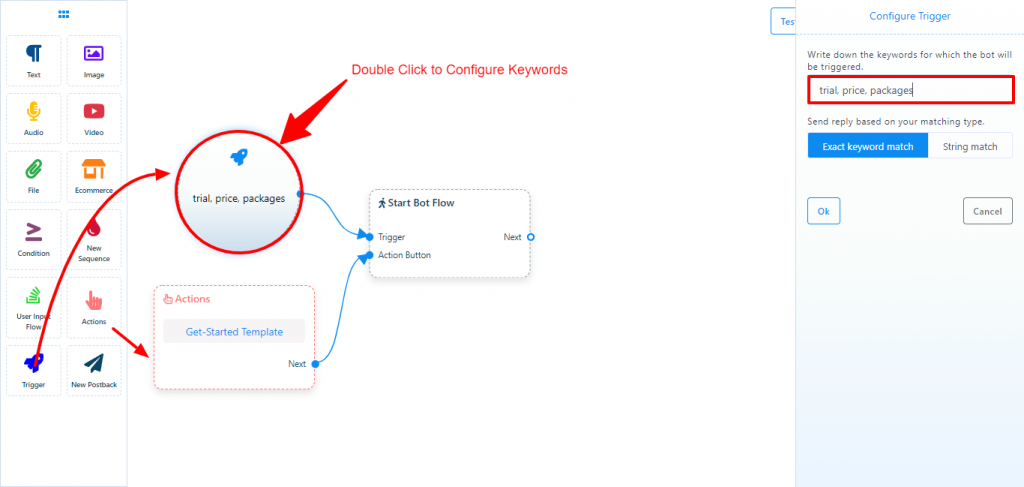 We must give the bot a name, to give a name for the bot double click on the "Start Bot Flow" and put the name on the title field. Now that we have set the trigger and action button and also have given a name for the bot, we will add bot replies to this bot. We can give various types of replies like text, image, audio, video, file, ecommerce, and user input flow (Used to ask user questions and store answers on system and custom fields).
Before adding a text reply, let's create an image reply to welcome the user. Just drag image and text elements from the doc menu and connect them one after one.
Double click each of them to add image and text.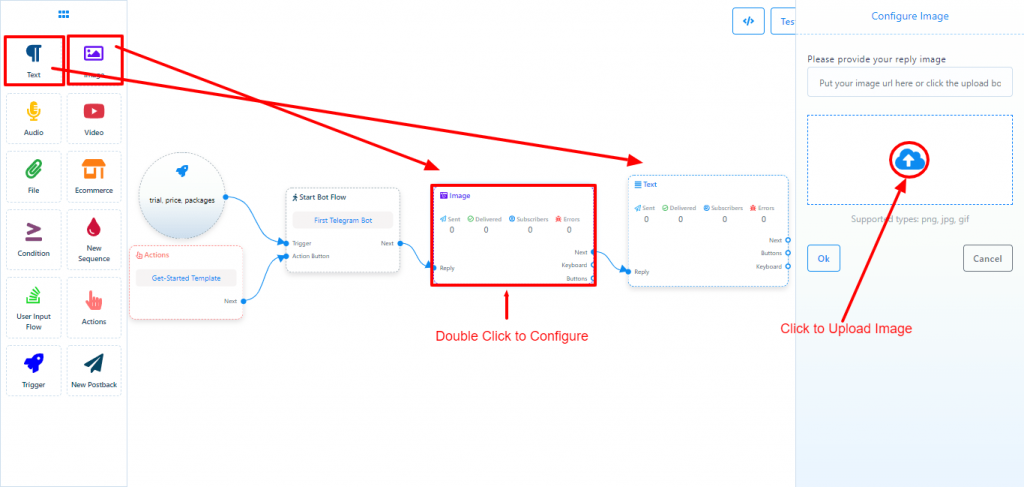 We can add buttons with the text replies and specify what reply they should get upon clicking on each button. Just drag a connector from the button socket to get the button.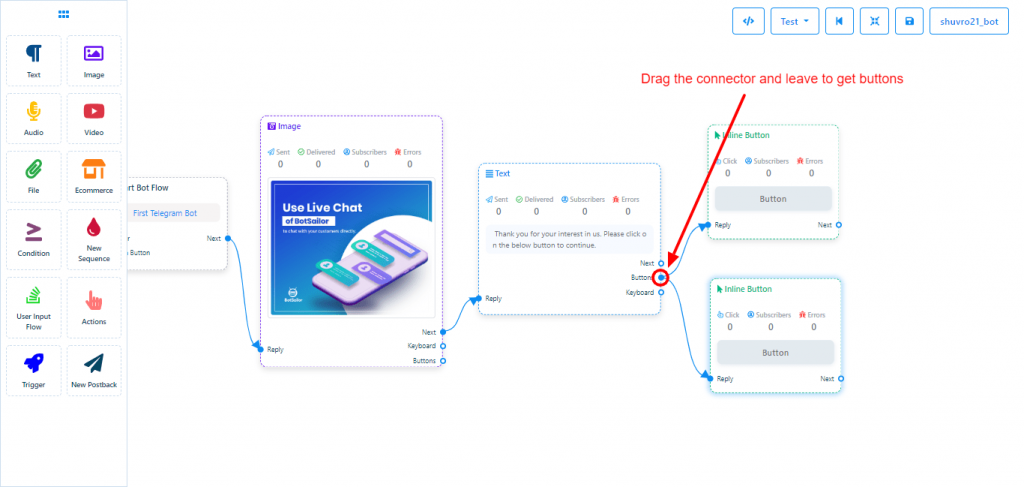 Double click on the button to give a button text and select the type of the button.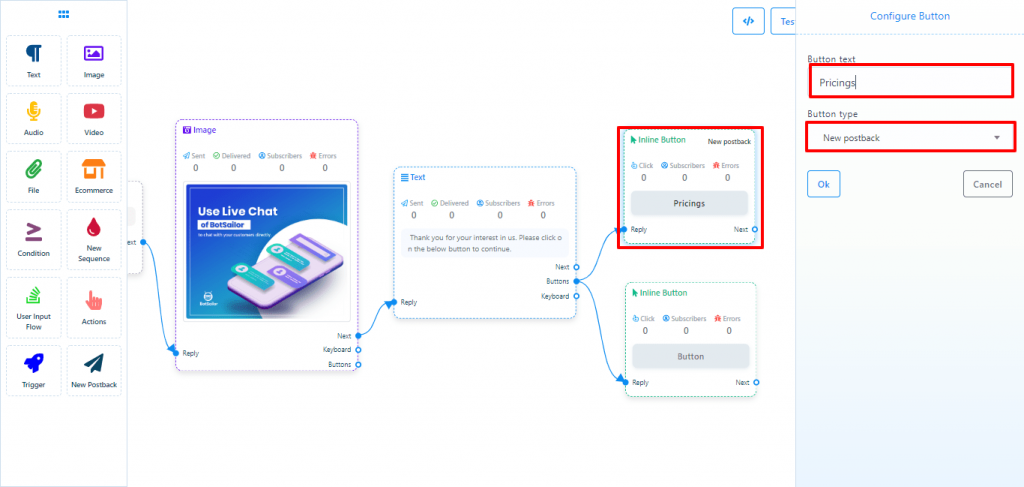 This is just a simple bot for Telegram. You can create a fully automated service, sales, and lead info bots in minutes without any coding experience.
BotSailor has many more fantastic features like Live Chat, user input flow and custom fields, sequence messages, broadcasting messages, etc. Sign up now and use it for free.